Career In Accounting Forum - Accounting Career Advice. Free Tips For Success.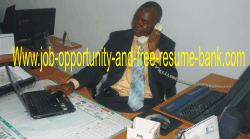 Career In Accounting Forum - A career in accounting is a ticket to the good life if you do it right. This accounting career advice forum provides free tips for success with accounting.
So, how do you succeed with an accounting career?

Accounting is a peculiar field. Accountants are the guys who can mess up the books and get you in trouble. They are also the guys who can manage your accounting books excellently and get the tax authorities off your back. So, if you desire to pursue an accounting career, you have made a wise choice.
Accountants are very special people. You join this category of professionals when you take a career in accounting. But to get into this elite class of people who are respected accountants, you need to first pass your professional exams and become a chartered accountant.
Let me share with you the situation in the country where I live. You can then compare this with the circumstances in the country where you live and apply the rules appropriately to your particular situation.
In my country, accounting career minded people who enjoy the full benefits of being an accountant are people who are chartered accountants. And chartered accountants are people who pass all the exams of the Institute of chartered accountants (ICAN).

If you are a graduate of accounting from any of the universities, the institute exempts you from taking the lower level exams. But you still have to take the higher level exams of the institute to get professional license to practice as a chartered accountant.

Students of the accounting institute who pass the foundation accounting exams of the institute can work as account clerks in organizations with the foundation certificate but they cannot perform or be addressed as chartered accountants.

Want to be a company executive with high net worth and high remuneration? Then you have to go the whole hug and become a chartered accountant.

The bad news is that many folks in my country repeat the exams several times and some even spend almost a decade before they can become chartered members of the accountant institute with license to practice.

The good news is that some smart folks breeze through all the exams in one sitting per exam and come out in flying colours.

So, you have a choice. You can either study slowly and spend years per stage of the professional exams or study hard and smart and breeze through the exams like many others before you.
Accounting career is a rewarding career. My advice?
Put in what it takes to succeed in this profession and become a chartered accountant. When you do, you will enjoy a life of bliss with a remuneration package that will make the average guy wonder why he didn't go to school.
P.S: Job seekers . . . post your resume in the free resume database so employers who need your services can find you.
P.P.S: Post or find job opportunities by country, profession, or industry.
Career In Accounting - Tips And Advice For Career Success
Know something that can help young folks make the best of their accounting career?

Share your thoughts and opinions using the form below. Your advice could help someone succeed in life.

Best all of all, it is FREE!

NOTE:

1. The message you post here MUST be original and in your own words.

2. Your contribution should be at least 400 words otherwise it will be deleted.

Back To Home Page From Career In Accounting
Subscribe To The Employment Guide Newsletter For Job Opportunity And Career Development Tips