Physics Jobs - Jobs In Physics. Post or Find Jobs Free.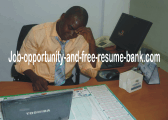 Physics jobs database - This is the directory of jobs in physics.
This physics jobs database is host to jobs in physics from every country of the world . . . from one corner of the globe clear to the other corner, from country to country, city to city.

How does it work?

Well, this directory offers free job listing for employers of labour.
Employers of labour include schools (high schools, universities, colleges of education, polytechnics etc), organizations who need specialists in physics, and individuals who need a private physics teacher.
Bottom line.
Post your job openings or job vacancies in this physics jobs database if you need physics teachers or physics professionals to handle specific assignments or tasks.
How do you post jobs in this physics employment opportunity database?
It's simple. Just fill the form below with the physics jobs you have in your school or organization and click the "upload your job vacancy" button. The job opportunity you have in your organization will be immediately uploaded to our servers and will become available to candidates who meet your specifications.
It's really that simple. No rocket science is involved.

Are you a physics professional looking for job opportunities in physics?

Look no further.

Simply browse the job links underneath the job listing form below to find your dream jobs in physics.
You may also wish to post your resume in the global free resume database so potential employers can easily find your profile. Consequently, employers with matching jobs will contact you . . . and boom! . . . you will get your dream job.
Physics Employment - Specialized Jobs
Physics is a specialized discipline. A lot of people do not realize this, but it certain is.
If you want a career in medicine, engineering, pharmacy, or any of the sciences, you will find that physics is a pre-requisite. If you cannot pass physics exams or you detest physics or the calculations in physics make your stomach turn, then say 'goodbye' to your dream of becoming a medical doctor or to your desire to have a career in any science or engineering discipline.
Guess what.
It is the physics teachers and professionals of today that train the physics professionals of tomorrow and ensure that we have an improved understanding of the world we live and how to master our world and enhance our lives.
So, treat physics professionals with a measure of respect. They are the guys that help shape tomorrow.
Use the form below to post physics jobs if your organization have jobs in physics that needs to be filled.
View available jobs using the links beneath the job posting form below.
Live your dream!
P.S: Job seekers . . . post your resume in the free resume database so employers who need your services can find you.
P.P.S: Post or find job opportunities by country, profession, or industry.
Physics Jobs Database - Post Physics Job Vacancies Free
Have physics job vacancies?

Simply post the job vacancies here using the form below.

Guess what?

It's totally FREE!

Simply use the form below.

NOTE:

1. The message you post here MUST be original and in your own words.

2. Your contribution should be at least 400 words otherwise it will be deleted.

Back To Home Page From Physics Jobs Subscribe To The Employment Guide Newsletter For Job Opportunity And Career Development Tips