Driving Vacancies - Driving Jobs. Post Job Vacancies. Find Employment Opportunities Free.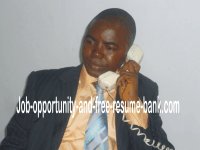 Driving vacancies database - Welcome to the free global driving jobs directory with employment opportunities from all over the world.
Job seekers, find employment opportunities free. Employers, post job vacancies free.

Yes, I am offering this free driving vacancies directory to help drivers find their dream jobs wherever they live in the world. So, if you are a driver, browse the job links below to find the job you seek. The job links are beneath the job listing form below.
If you are an employer of labour, I encourage you to take advantage of this free job listing offer and post your driving jobs free in this driving vacancies database. Simply use the form below.
Please read the guidelines for posting jobs to get free tips that will ensure you get the most value from this free job listing database.
If you are a job seeker searching for driving jobs, I suggest you take some time to read the guidelines to find jobs so that you can get the most value from using this job opportunity directory.
The Driver As A Family Friend
I tell people that drivers should be treated specially because they are among the closest employees to their family.

Think about it.

Your driver is the person you leave your wife with. He is the person you entrust your children with to take them to school and back while you are not there. Your driver is the person that will take you to the hospital when you are weak and unable to help yourself.
Wait a minute.
What if your driver decides to disappear with your kids because you are fond of treating him badly? Can you imagine the disastrous consequences of that? Think about the heartbreak that could cause!
Yes, drivers are the people that make your life a lot easier.
You can fall asleep in your car when you are on a long journey out of town, and alone in the thick of the forest with your driver, because you trust your driver. You believe your driver will not harm you and that he will drive you safety to your destination.
But do you know what your driver thinks of you as a boss? Have you ever wondered how your driver rate you?
Ask your driver what he thinks about you. Tell him to be straightforward and honest. And tell him you will love to hear from him what you can do better to make him happier with his job.
You will be amazed what you will hear.
Most drivers are poorly paid and work long tiring hours. Worst still, most bosses do not give a damn about their drivers' welfare.
Do you know what kind of emotions that kind of behaviour can engender in your driver?
Believe me, things can turn really bad.
You need to understand that your driver is among the closest people to your wife, your kids, and your entire family. You don't want to elicit negative feelings in that kind of person because that could result in ill-feelings toward you that could lead to tragedy.
Treat drivers with love, consideration, and compassion. They are humans too!
Demand quality performance from them as you would any other employee. But also pay them like professionals and make their remuneration package something they can be proud of.
The result?
You and your family will be in safe and happy hands. And you will have nothing to worry about.
This driving jobs directory is for employers with driving vacancies that recognize that drivers are humans too.
Treat drivers right!
Post driving employment opportunities in this driving vacancies database using the form below.
Job seekers, find driving jobs free. Look underneath the job listing form below.
P.S: Job seekers . . . post your resume in the free resume database so employers who need your services can find you.
P.P.S: Post or find job opportunities by country, profession, or industry.
Back To Home Page From Driving Jobs Subscribe To The Employment Guide Newsletter For Job Opportunity And Career Development Tips