Nursing Jobs In Nigeria - Nigeria Nursing Job. Nurse Jobs In Nigeria.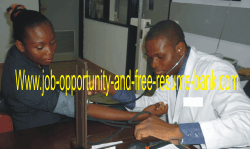 Nursing jobs in Nigeria Africa. This Nigeria nursing job directory features nurse jobs and nursing vacancies in Nigeria.
Does your hospital or clinic need new nursing staff?

The good news is . . . you can now get access to a large number of registered nurses and auxiliary nurses through this nursing jobs in Nigeria directory. All you need to do is to post your job ads here using the form below.

The truth is . . . Nigerians have moved up. Millions of Nigerians have joined the technology bandwagon . . . the internet revolution.
Millions of Nigerians are now more internet savvy. Nigerians now realize that what they seek is available online. Therefore millions have gone ahead to take computer courses so they can become computer and internet literate.
Bottom line.
Millions of Nigerians are now online!
These Nigerians include nurses searching for jobs. So, when you post your nursing jobs in Nigeria on this web site, you get a large number of qualified nurses applying for the job. With a large number of nurses to choose from, you are guaranteed to get the best hands in the industry for your clinic or hospital.

This is the premium Nigeria nursing job directory. Use it! Explore it!

Here is another good news.
This directory is completely free to use. Employers post job ads free. Applicants search jobs free and apply free.
So, if you are an employer . . . a clinic or hospital owner or medical director . . . use the services of this employment web site to screen out poor nurses and latch on to professional nurses that will grow the reputation of your medical facility.
Please follow the instructions below to get the most value from this site . . . as an employer or an applicant.
NOTE: Click HERE to view all job categories in Nigeria if you are looking for jobs not related to the nursing profession.
How To Post Job Vacancies
Posting job vacancies on this site is pretty simple. It takes less than 3 minutes.
Click HERE to view guidelines for posting job ads on this site.
How To Do A Job Search
There are two ways to search for jobs on this employment web site.
1. View the job links after the submission form below. Click on the links to jobs that appeal to you. Then read the requirements and apply.
2. Click on the job search button on the navigation bar to your left and type your required job in the search box. The results will amaze you.
Here is a toast to your success. I pray you find your dream job on this employment site.
Post Nursing Jobs In Nigeria Free
Is your company recruiting new nursing staff?

Simply post the job vacancies here using the form below.

Guess what?

It's totally FREE!

Simply use the form below.

NOTE:

1. The message you post here MUST be original and in your own words.

2. Your contribution should be at least 400 words otherwise it will be deleted.

Nursing Vacancies - Nursing Jobs In Nigeria
Browse this job directory using the links below.

Click on the links below to view available job vacancies.


Back To Home Page From Nursing Jobs In Nigeria
Subscribe To The Employment Guide Newsletter For Job Opportunity And Career Development Tips