Technical Writing Jobs - Jobs For Technical Writers. Post And Find Jobs Free.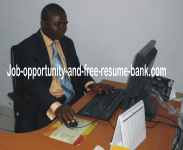 Technical writing jobs database - This database features employment opportunities for technical writers.
Technical writing jobs require a special breed of writers . . . people who understand the technical stuff in question and who have the writing skills to translate those technical jargons or technical stuff into a simple to understand language.

The truth is: many technical people . . . professors, engineers, scientists etc . . . are so caught up in their work that they have very little time to actually pass on their knowledge to current and future generation through formal writing.
They are so busy "saving the world" that they forget that one of the greatest path to growing global knowledge and actually saving the world is through knowledge sharing by writing down what they know or have discovered.
That is why I created this technical writing jobs database hosting job opportunities for technical writers from all disciplines.
Wait. How does this technical jobs database help?
Well, it provides an opportunity for technical people who have technical stuff to write to advertise their technical writing jobs. This platform is unique for advertising writing jobs for technical writers because it is a database dedicated solely to technical writing employment opportunities.

In simple words . . . this technical writers job bank, or more correctly, this job bank for technical writing employment opportunities connect technical writers to employers with technical writing jobs, employers who have openings for writers who specialize in writing technical stuff.
The good news is . . . employers can post job openings free in this job bank and job seekers who are experts in writing technical stuff can also search the database and find their dream jobs free.
Have technical stuff you want written? Want to engage the services of an expert writer?
Simply post your writing job requirements in this database using the simple job listing form below.
How do expert writers find you?
Simple. When you fill the job listing form below and click the submit button, your job opening or job vacancy post will appear on this site as a separate page dedicated to your job post. This page will then be indexed by Google and other search engines.
This means that the job vacancy page you created will appear in Google's search result when technical writers looking for technical jobs do a search in Google or the other search engines.
Bottom lin.
The class of writers you seek will easily find your job listing when you post your writing requirements on this site. Thereafter they will contact you to do business with you.
Visit the guidelines for posting jobs for some advice on how to get the best result with your post.
Are you a technical writer looking for suitable technical writing jobs?
Look no further. Your dream job may be right here, right now.
Simply browse the links underneath the job listing form below to locate the writing job of your choice.
You may visit the job search guidelines for some tips on how to find your dream job using the search features on this site.
P.S: Job seekers . . . post your resume in the free resume database so employers who need your services can find you.
P.P.S: Post or find job opportunities by country, profession, or industry.
Technical Writing Jobs Database - Post Technical Writing Jobs Free
Have technical writing job vacancies?

Simply post the job vacancies here using the form below.

Guess what?

It's totally FREE!

Simply use the form below.

NOTE:

1. The message you post here MUST be original and in your own words.

2. Your contribution should be at least 400 words otherwise it will be deleted.


Back To Home Page From Technical Writing Jobs Subscribe To The Employment Guide Newsletter For Job Opportunity And Career Development Tips